Police Commissioner James P. O'Neill presented the NYPD's Theodore Roosevelt Award to three members of the service who overcame severe illness and extensive treatment to return to their duties in the New York City Police Department.
The recipients of the award, in its twelfth year of being bestowed, include officers who underwent late-stage cancers, brain tumors, a brain aneurysm and a ruptured arterial venal malformation.
Most often remembered for his United States Presidency from 1901 to 1909,Theodore Roosevelt was previously the President of the New York City Police Commission from 1895 to 1897. He persevered physical challenges brought on by a heart condition and childhood asthma, and rose in influence and prominence throughout his lifetime. Roosevelt also served as Assistant Secretary of the Navy and Governor of New York. The Department has presented awards in his name since 2005.
This year's recipients are: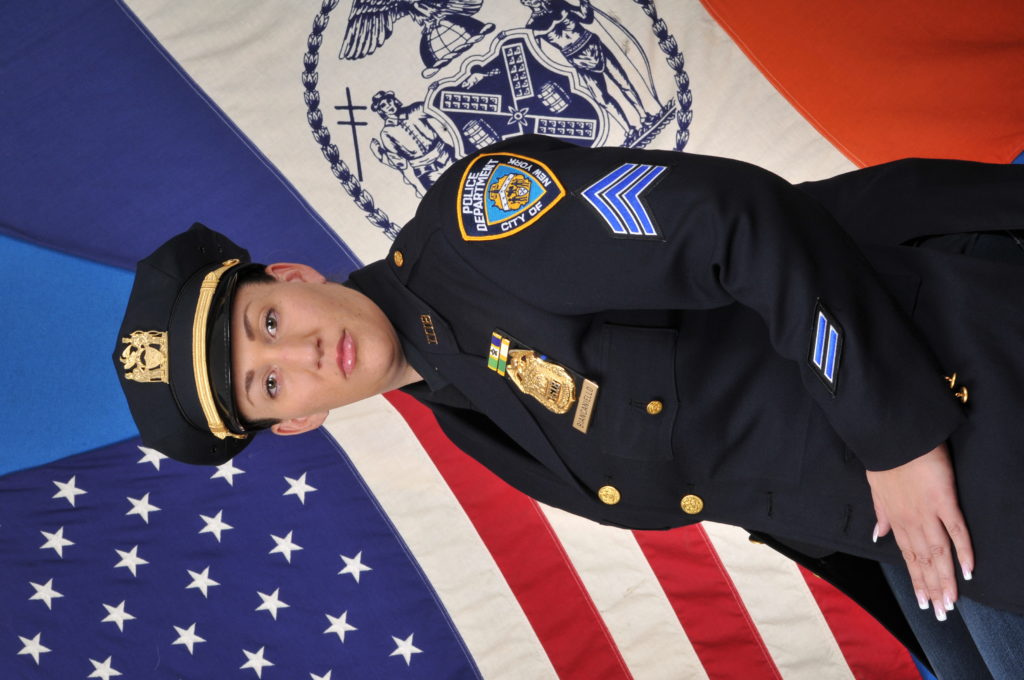 SERGEANT DANIELLE BIANCANIELLO ​​​​​​​​​
108 Precinct
In June 2015, Sergeant Danielle Biancaniello was diagnosed with a brain tumor. After consultation with her doctors, it was determined that if she did not remove the benign tumor, she would lose her speech and motor skills. In September 2015, Sergeant Biancaniello had surgery to remove the tumor which caused her to lose some of her motor skills. Her recovery involved rehabilitation to walk and perform daily tasks. During her recovery, Sergeant Biancaniello was caring for her two-year-old daughter, and despite all, was still concerned about her command's daily operation. While out sick, Sergeant Biancaniello fielded numerous precinct phone calls and even went to the station house to help complete assignments and ensure the command was operating efficiently. She returned to full duty in June of 2016. She is recognized by her colleagues as an extremely competent and dedicated supervisor who takes great pride in being one of New York's Finest. In August 2017, Sergeant Biancaniello gave birth to a baby boy.
Sergeant Biancaniello joined the New York City Police Department in January 2004, and began her career on patrol in the 104 Precinct. She was promoted to detective in January 2011, and to sergeant in October 2011. During her 13-year career, Sergeant Biancaniello has made 357 arrests, and has been honored twice for Excellent Police Duty.
DETECTIVE JON GLADSTONE ​​​​​​​
Criminal Enterprise Division
On March 8, 2016, Detective Jon Gladstone, then assigned to Narcotics Borough Brooklyn North, was shot in the line of duty while apprehending an individual for the sale of narcotics. The 9 mm round entered Detective Gladstone's shoulder and travelled into his chest. He was severely wounded and was hospitalized for ten days. Detective Gladstone underwent multiple surgeries, including one to reattach his severed humerus, and a second, nine months later, to remove a bullet from his torso. Despite the odds, Detective Gladstone persevered. On January 12, 2017, after nine months of rehabilitation and occupational therapy, Detective Gladstone returned to full duty, and was selected for the elite assignment of canine handler in the Criminal Enterprise Division Narcotic's Canine Unit.
Detective Gladstone joined the New York City Police Department in January 2005, and began his career on patrol in the Midtown South Precinct. He also served in the 5 Precinct, the Manhattan South Anti-Crime Unit, the Narcotics Division and Narcotics Borough Brooklyn North. During his 12-year career, Detective Gladstone made 476 arrests, and has been honored 10 times for Excellent Police Duty and twice for Meritorious Police Duty.
DETECTIVE TODD SZEBENYI ​​​​​​​
122 Detective Squad
On February 22, 2016, Detective Todd Szebenyi was working out at the gym, when he developed a severe headache. With the advice of his physician, he went to the hospital where an initial examination found that he suffered a brain hemorrhage. He was then transferred to Staten Island University North Hospital and released after three days. After many doctor's visits and procedures, it was determined by doctors at Mount Sinai Hospital in Manhattan, that he was diagnosed with an arteriovenous malformation, a tangle of blood vessels in the brain that required surgery. Detective Szebenyi endured six-hours of surgery to repair the damage, and spent a total of 13 days in the hospital. During post-operative testing, it was discovered that Detective Szebenyi developed three blood clots, one in each lung, and one in his left leg that required a blood thinner to dissipate. Over the next few months he worked hard through physical therapy. On July 12, 2016, Detective Szebenyi returned to work, where he continues to perform exemplary for the 122 Precinct. In addition to making a full recovery, he completed the 2016 New York City Marathon in 5:05:13.
Detective Szebenyi joined the New York City Police Department in July 2005, and began his career on patrol in Transit Borough Brooklyn. He also served in Transit District 2 and the Transit Bureau. During his 12-year career, Detective Szebenyi has made 586 arrests, and was recognized once for Excellent Police Duty.