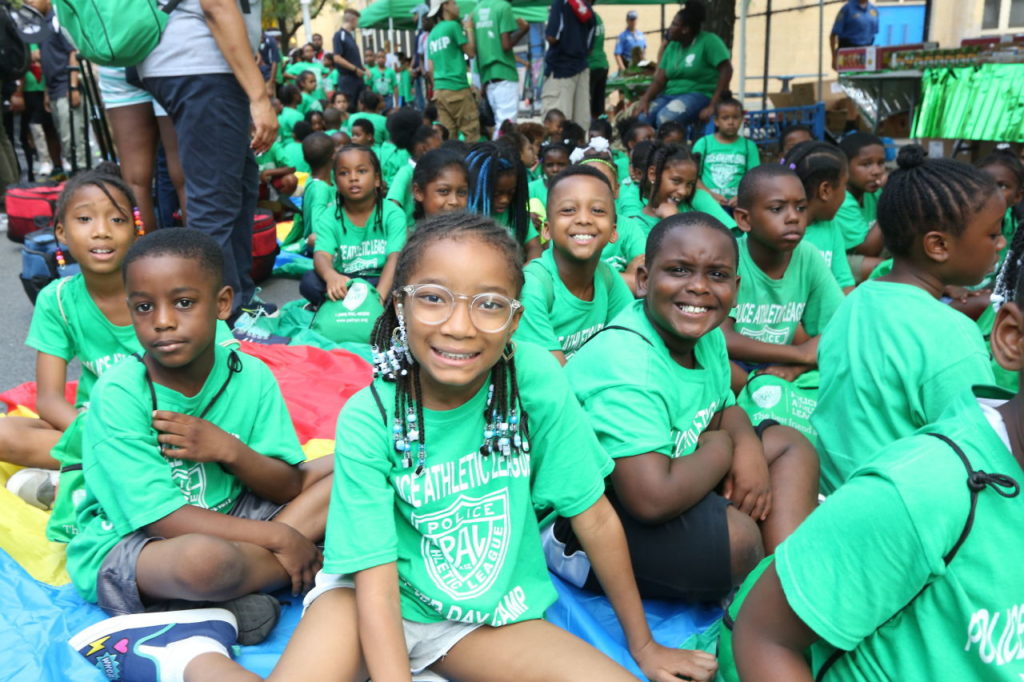 Over 500 children from all five boroughs gathered at the Police Athletic League's Harlem Center Thursday for the annual opening ceremony of the summer opening of the PAL PLAYSTREETS program.
Since 1914, PLAYSTREETS has provided community-oriented activities for thousands of children, ages six to 16. Each summer, the program closes around 15 public areas throughout New York City, transforming ordinary streets into fun-filled spaces where children can play, participate in physical activities, and learn valuable life lessons, all under the supervision of PAL staff and NYPD volunteers. This summer, PLAYSTREETS is focused on basketball, with instructors stationed at each location four to five days a week.
"When I was a kid growing up, I couldn't wait for June,"

Police Commissioner O'Neill said

. "I hope you're all having a good summer, and I hope September doesn't come too soon."
"PLAYSTREETS is a partnership between our neighborhoods and the NYPD," said PAL Field Director Evan Kessler. "The program allows members of the community to get to know their officers and vice-versa, which is such an important part of building up relationships and trust."
While waiting for the event to begin, children ran up and down West 119th Street, tossing footballs with NYPD cops, including Chief of Community Affairs Joanne Jaffe and other officers in the Community Affairs Bureau. Members of the NYPD Mounted Unit also introduced the kids to their four-legged colleagues.
In attendance were City Council Speaker Melissa Mark-Viverito and members of the PAL Board of Directors, including Chairman and former New York County District Attorney, Robert M. Morgenthau and Rikki Klieman.
PAL Executive Director Frederick Watts presented commemorative basketball jerseys to Police Commissioner O'Neill, Chief of Department Carlos M. Gomez, Chief of Patrol Terence Monahan, Community Affairs Chief of Community Affairs Joanne Jaffe, Chief of Housing James Secreto, and Deputy Commissioner for Legal Matters Lawrence Byrne. He went on to present plaques to NYPD officers, who help PAL achieve its mission.
"Every day, NYPD officers leave their day jobs protecting and serving our city to come volunteer with our kids. We want to honor their hard work today,"

said Director Watts

.
As the ceremony drew to a close, the children sang "Happy Birthday" to Robert Morgenthau, who will turn 98 at the end of July. They then waited eagerly as he helped open the fire hydrant on 119th Street.