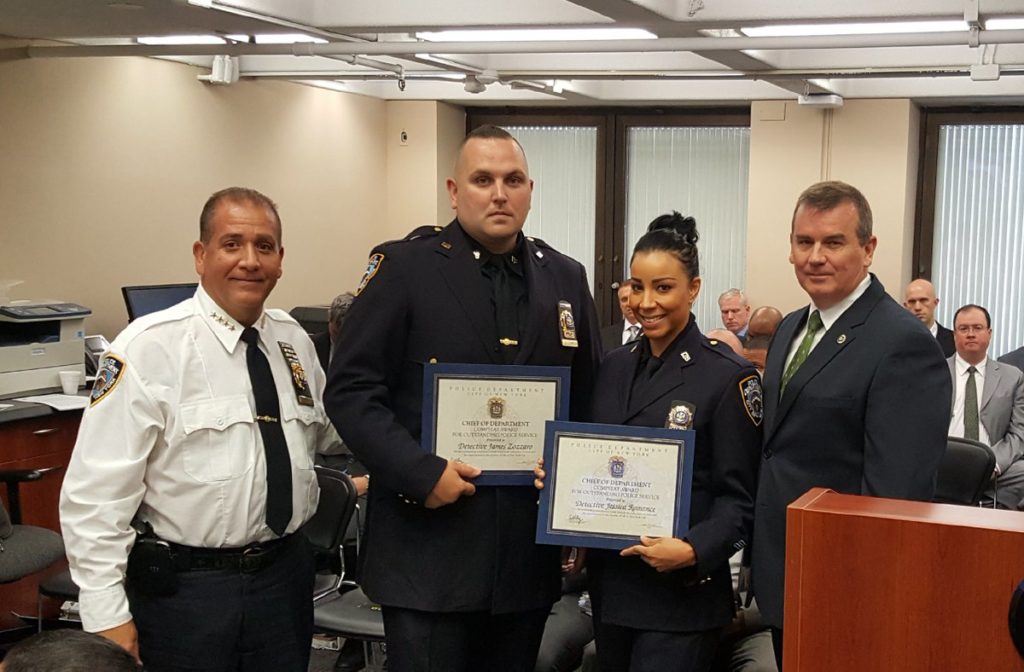 Detective James Zozzaro and Detective Jessica Romance of the 113 Precinct in Queens received the NYPD's CompStat Award in recognition of their proactive policing and rigorous investigative work. Over the course of a month, the partners have made eight arrests for homicide, robbery, burglary, and criminal possession of a weapon.
On May 27, Detectives Zozzaro and Romance recovered footage of two shooting suspects while conducting an extensive search for video with the Queens South Homicide Squad. While on patrol later that day, the detectives spotted the vehicle seen in the surveillance footage. As they attempted to stop the suspects, the passenger jumped out of the car and threw his firearm back into the vehicle. Detective Romance pursued the fleeing suspect on foot and apprehended him while Detective Zozzaro continued to follow the driver. Detective Zozarro tailed the driver to the rear yards of homes where he disappeared out of sight. Detectives Zozzaro and Romance immediately called for backup and set up a perimeter around the area. With the help of patrol officers, Emergency Service Unit, and NYPD K9 the officers located the second suspect hiding in the basement of a bodega. The suspects were charged with murder 2 and are currently remanded.
In additional incidents, the detectives utilized their investigative skills and physical training to apprehend suspects for the robbery of a 74-year-old man and a domestic violence related homicide. While both detectives have received previous accolades as members of the NYPD, the CompStat Award is the first award they have received acknowledging their work as partners. Detective Zozzaro believes their success as partners has to do with precinct-wide support and their dedication to helping the community:
"We have two totally different paths that brought us here: Jess is from a single parent home in Washington Heights and I come from a law enforcement family in Long Island. But both of us have the same goal: we want to bring some semblance of peace to families in their most difficult time."
While the detectives are honored to receive this CompStat acknowledgment from the Department, they do not plan on resting on their laurels. Detective Zozzaro and Romance are highly motivated to continue their prolific careers and training so they can keep New Yorkers safe.