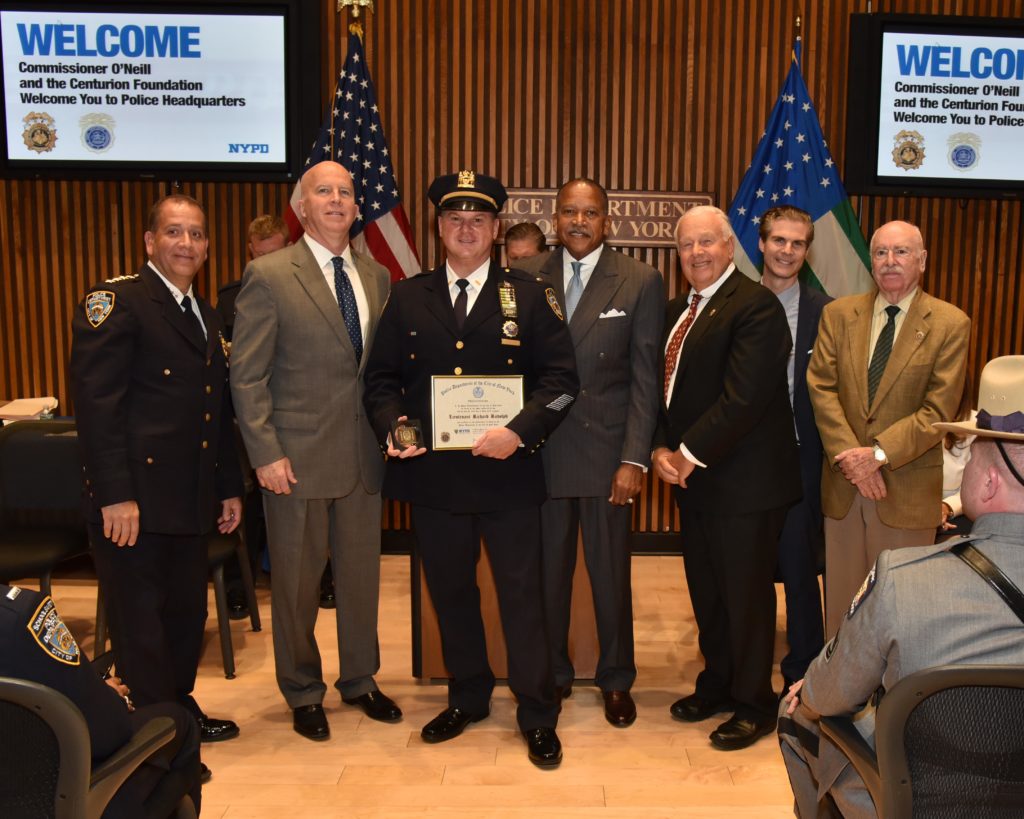 Centurion Foundation directors, NYPD members, and loved ones gathered at One Police Plaza for the quarterly Centurion Awards Ceremony. Award recipients were lauded for selflessly going above and beyond in their service to New York City. The twenty honorees were selected by a nominations committee and confirmed by their commanding officers. Police Commissioner O'Neill presided over the ceremony and presented the officers with a plaque and challenge coin as their family members proudly cheered them on. Police Commissioner O'Neill commended both the officers and their families for the sacrifices they make every day to keep our city safe:
"Everyone here today has made our great city safer and better for all of us in one way or another."
Detective Luis Cruz and Officer Konti Markvukaj tactically disarmed and arrested a man who had stolen a vehicle with a child in the back seat. Additional officers were recognized for busting national drug routes, stopping a shooting while off-duty, and administering the Heimlich maneuver to a choking baby. Traffic Enforcement Agent Luis Sandres persuaded an emotionally disturbed person waving a knife in Fulton Mall to put the weapon down without incident.
Among those honored were Sergeant Jason Delos-Santos and Sergeant Timothy Sikorski of the New York State Police. They were awarded for their efforts to locate and secure an undetonated explosive device on September 17 in the Chelsea neighborhood of New York City. Sergeants Delos-Santos and Sikorski found the device only a few hours after another exploded just a few blocks away. Congratulations to all those honored for your contributions to keeping New York City one of the safest big cities in America.