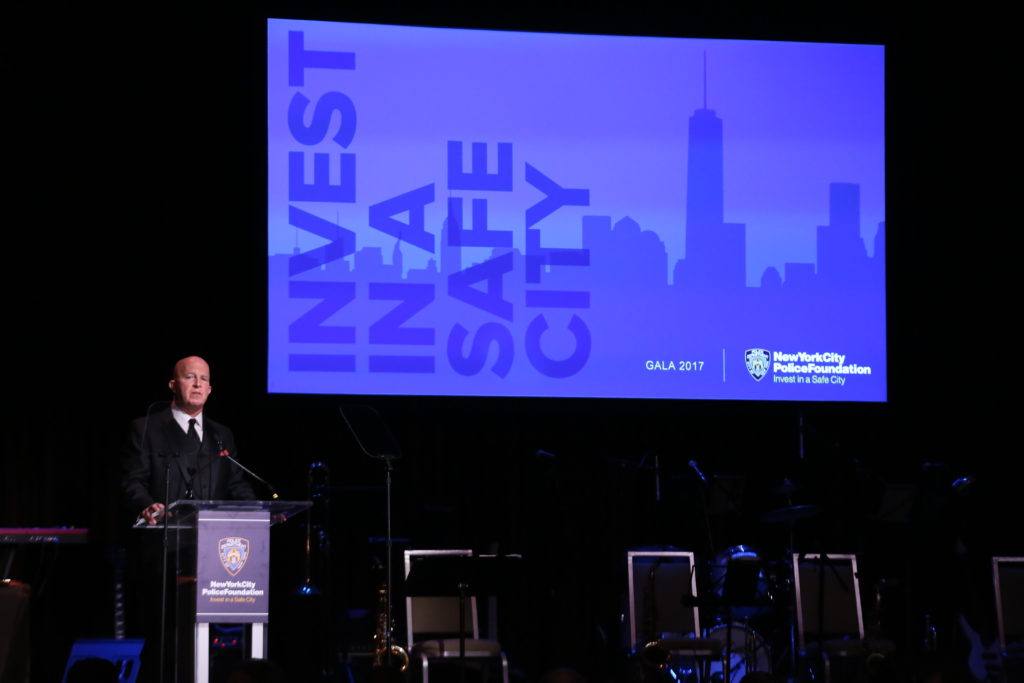 New York, NY — The New York City Police Foundation hosted its annual fundraising gala tonight at the Sheraton New York, where the Foundation and Police Commissioner James O'Neill honored Charles Phillips, Chief Executive Officer, Infor, paid special tribute to former New York City Police Commissioner William Bratton, and recognized members of the NYPD who have served with distinction.
"The New York City Police Foundation is able to invest in vital NYPD crime fighting and public safety programs only because of the generosity and support of our donors like Charles Phillips and companies like Infor," said Susan Birnbaum, President & CEO of the New York City Police Foundation. "Tonight is not only a celebration of the exemplary work of our City's law enforcement, but also a reminder that New York City is the safest large city in the world because of the commitment of our City's business and civic leaders."
More than 1,000 of New York City's business, civic, and cultural leaders attended the Foundation's annual gala. Established in 1971 as an independent, nonprofit organization, the New York City Police Foundation is the only organization authorized to raise funds for the NYPD. Since its inception, the Foundation has supported over 450 innovative NYPD programs.
Journalist Willie Geist hosted the event whose guests included Robert Kraft, Margo & John Catsimatidis, Scott Stringer, Rikki Klieman, Merryl & James Tisch, Elizabeth & Dale Hemmerdinger, Robert Catell, Ann & Andrew Tisch, Brett Yormark, Bruce Ratner, Caroline Hirsch & Andrew Fox, Susan Birnbaum, Somers & Jonathan Farkas, Kathryn Chenault, Sharon & Ambassador John Loeb, Christy & John Mack, Dr. Amelia Quist-Ogunlesi & Odebayo Ogunlesi, Adam Rose, Daryl & Steven Roth, Fiona & Eric Rudin, and Kathryn Wylde.
The Foundation and Commissioner O'Neill presented the Chuck Barris Foundation "Cop of the Year" Awards to Sergeant Christopher Connolly and Detectives Jason Hallik and Timothy Brady, for their efforts in the NYPD Counterterrorism Bureau's Bomb Squad. The Hemmerdinger Award for Excellence for distinguished public service will be presented to Lieutenant Richard Zacarese and Police Officers Robert Bramble, John Buchanan, and Tanya Barry.
HEMMERDINGER AWARD
LIEUTENANT RICHARD ZACARESE
Detective Bureau/Gun Violence Suppression Div.
Lt. Richard Zacarese is C.O. of the Violence Reduction Task Force,which concentrates on conspiracy investigations into the most violent gang members in New York City.
Using his substantial experience as an officer and detective in the Queens Gang Squad, Lt. Zacarese created a method of breaking down complex investigations to find the most compelling evidence against some of the city's most violent criminals – earning him the nickname "Architect" from then-PC Bratton.
In 2014, Lt. Zacarese was asked to oversee the newly-formed VRTFand help form the new Gun Violence Suppression Division.
Since then, Lt. Zacarese and his unit have worked closely with each District Attorney's Office to arrest and convict 120 gang membersacross the five boroughs – leading to a significant decrease in violence and shooting incidents in New York City neighborhoods.
POLICE OFFICER TANYA BARRY
67th Precinct
P.O. Tanya Barry is the Youth Officer for the 67th Precinct in East Flatbush. Four years ago, she founded the NYPD Falcons Track Clubas a community-based program for young people in that neighborhood. The club, which now has about 45 members from disadvantaged backgrounds, provides an activity from which members can learn about teamwork and personal achievement. One member has gone on to receive an NCAA scholarship, and several other members are on similar paths, as well. P.O. Barry closely monitors all members' academic achievements to ensure they are using their experiences in the club to advance themselves in all areas. In conceiving the program, P.O. Barry drew on her own background as a track-and-field athlete. The program is a stellar example of what can be achieved when police officers bring their personal talents and diverse skills into the communities they serve.
POLICE OFFICER ROBERT BRAMBLE
POLICE OFFICER JOHN BUCHANAN
79th Precinct
Police Officers Robert Bramble and John Buchanan are partners and NCOs for Sector Adam in the 79th Precinct in Bedford-Stuyvesant. This past February, through contacts they'd made with local businesses and with the help of new, enhanced technology at their disposal, they investigated, identified, pursued, and arrested a suspect who robbed a local deli at gunpoint – recovering the gun used in commission of the crime during the arrest. They were also recognized for inviting local families to a precinct Christmas event, and for distributing handmade cards to residents on Valentine's Day, an act that was covered by CBS, The New York Times, and News 12. Their dedication to protecting the community and creating positive relationships was also honored with a Certificate of Appreciation from the Fulton Street Business Improvement District.
CHUCK BARRIS "COP OF THE YEAR" AWARD
SERGEANT CHRISTOPHER CONNOLLY
DETECTIVE JASON HALLIK
DETECTIVE TIMOTHY BRADY
Counterterrorism Bureau/Bomb Squad
On September 17, 2016, at approximately 2031 hours, a pressure-cooker bomb filled with metal shrapnel exploded in front of 133 W. 23rd Street in Chelsea. Sgt. Christopher Connolly, along with others from his CTB Bomb Squad team, arrived on the scene about 30 minutes after the blast. Sgt. Connolly notified Detectives Hallik and Brady to clear the area of secondary devices, and locate and secure forensic evidence.
At about 2200 hours, a 911 call came in about a suspicious package on W. 27th Street between Sixth and Seventh Avenues, four blocks from the original blast site. At that location, two NYS troopers discovered a second, unexploded device that looked like a pressure-cooker bomb concealed in a plastic bag, connected with dark wiring to a mobile phone.
At that point, Sgt. Connolly (line supervisor), Det. Hallik (primary bomb technician/case officer), and Det, Brady (assistant bomb technician) were dispatched to the secondary device's location by Lt. Mark Torre (who had overall command). Det. Hallik operated the robot that picked up the unexploded bomb and, along with Det. Brady, loaded and secured the bomb into a special containment vehicle for transport to Rodman's Neck.
By 1000 hours the next morning, Detectives Hallik and Brady had successfully evaluated, dismantled, and rendered the device safe, under Sgt. Connolly's supervision. At great risk to their own lives, these actions prevented untold injuries or death in Chelsea.
Further, as a result of the successful dismantling of the second bomb, vital forensic evidence was recovered that led to the rapid identification of the suspect, and positively linked the 27th Street device to prior bombings in New Jersey that occurred on the same day.
The evening's co-chairs were H. Dale Hemmerdinger, The Hemmerdinger Corporation; 21st Century Fox; Bank of America; Ralph Clark, SST, Inc.; Beth Rudin DeWoody, May & Samuel Rudin Family Foundation, Inc.; Martin Edelman, Abby Elbaum, Ogden CAP Properties, LLC; Empire State Realty Trust; Laurence Fink, BlackRock; Mario Gabelli, Gabelli Funds; Eric J. Gertler; John Greed, Mutual of America; Maurice R. Greenberg, The Starr Foundation; Robert K. Kraft; Thomas H. Lee; Daniel S. Loeb; Stephen J. Meringoff, Meringoff Properties, Inc; Edward D. Miller; Jennifer & David Millstone; New York Daily News; Amelia & Bayo Ogunlesi; Greg Olsen; Ronald O. Perelman; Adam R. Rose & Peter R. McQuillan; The Edward John & Patricia Rosenwald Foundation; The Rudin Foundation, Inc; The Paul E. Singer Foundation; Ann & Andrew Tisch; Robert S. Tucker; Annelise Peterson Winter & David S. Winter; Benjamin J. Winter, The Winter Organization; and Mortimer B. Zuckerman.
About the New York City Police Foundation
The New York City Police Foundation provides strategic resources in support of NYPD initiatives that make New York City a safer place to live, work, and visit. The NYPD's budget covers most expenditures for operations, personnel, facilities and equipment, but leaves little to finance innovative initiatives. The Police Foundation invests in programs that are designed to help the NYPD keep pace with rapidly evolving technology, strategies, and training that could not get funded in the city budget.
By supplying seed capital for numerous pilot programs, the NYPD is able to create model programs that stimulate and accelerate innovation to fight crime. Once established, these programs are often expanded and incorporated into the city's budget, leveraging the Foundation's initial investment many times over and having a major impact on NYPD operations.
The New York City Police Foundation is the only organization authorized to raise funds on behalf of the NYPD.
Police Foundation's partnership with the NYPD in action:
• The Foundation supports counterterrorist initiatives that include the International Liaison Program, which stations NYPD Investigators around the world to gather global intelligence for the protection of New York City.
• All rewards for the Crime Stoppers and Gun Stop programs, which have assisted the NYPD in solving over 5,300 violent crimes and seizing more than 3,500 illegal weapons, are paid by the Foundation.
• The Foundation supports the Neighborhood Policing community engagement activities to improve relations between the police and the communities they serve and to continue to drive crime down.
###