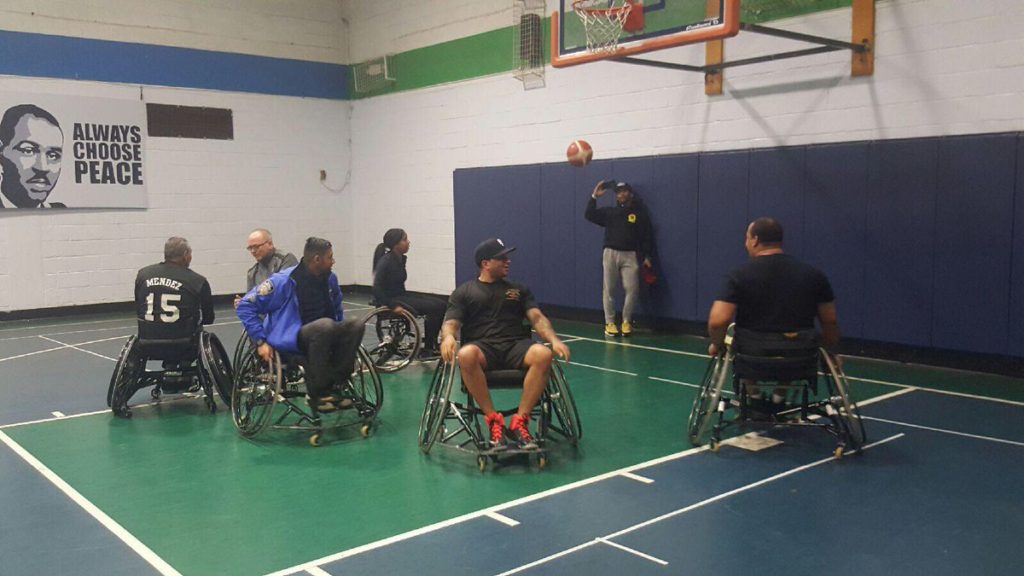 "We practice once a week and travel all over the country for tournaments. My message is, you're still active, you can still move, you can be a part of something,"

said Dave Deas, Manager of the Nets team.
Cops from NYPD's Patrol Borough Queens South (PBQS) recently organized a wheelchair basketball game to honor our nation's veterans. The First Annual Wheelchair Classic was held on Thursday December 1 at the Ray Wilkens Park Recreation Center in Queens. A team of police officers from the 100, 101, and 113 precincts along with police officers from Police Service Area 9 played the Brooklyn Nets wheelchair basketball team. The Nets team is comprised of local players who play in the National Wheelchair Basketball Association, a nation-wide league of 150 teams across the United States. Sergeant James Clarke, of the PBQS Community Affairs Unit, was the organizer of the event.
"The idea came from the Reverend Dr. Barbara Williams of the Chaplains Unit. Back in the 90's I played in a Brooklyn North league that was organized by Reverend Williams when she was a Detective. When our season was over she would have us play one game in wheelchairs against players with disabilities.

I felt it was a great idea and I wanted to bring it to Queens South to bring attention to disabled veterans and all disabled people in general,"

said Sergeant Clarke.