One small act can make a difference. Show your support for Veterans and Service members who may be in crisis, and spread the word about The Power of 1. Veterans, Service members, and their loved ones can call 1-800-273-8255 and Press 1, send a text message to 838255, or chat online to receive free, confidential support 24 hours a day, 7 days a week, 365 days a year, even if they are not registered with VA or enrolled in VA health care.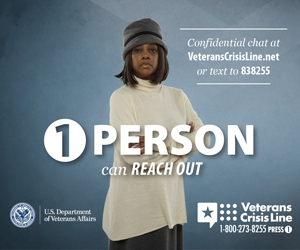 The responders at the Veterans Crisis Line are specially trained and experienced in helping Veterans of all ages and circumstances — from those coping with mental health issues that were never addressed to recent Veterans dealing with relationships or the transition back to civilian life.
Since its launch in 2007 through May 2016, the Veterans Crisis Line has answered over 2.3 million calls and initiated the dispatch of emergency services to callers in imminent crisis nearly 61,000 times. Since launching chat in 2009 and text services in November 2011, the VCL has answered over 289,000 and nearly 55,000 requests for chat and text services respectively. Staff have forwarded nearly 376,000 referrals to local VA Suicide Prevention Coordinators on behalf of Veterans to ensure continuity of care with Veterans local VA Providers.
VA is working to make sure that all Veterans and their loved ones are aware of the Veterans Crisis Line. To reach as many Veterans as possible, VA is coordinating with communities and partner groups nationwide — including community-based organizations, Veterans Service Organizations, and local health care providers — to let Veterans and their loved ones know that support is available whenever, if ever, they need it.
Act Now
Learn Now