Neighborhood Coordination Officers program designed to unite police and community as trusted partners in keeping neighborhoods safe
Groundbreaking NCO program will now include 100 percent of housing commands
NEW YORK—Mayor Bill de Blasio and Police Department Commissioner Bill Bratton today announced the expansion of Neighborhood Coordination Officers to a total of 51 percent of citywide commands, growing the department's groundbreaking program to build stronger partnerships between police and the communities they serve. Neighborhood Coordination Officers work closely with the community to identify and manage local concerns, and establish close relationships with the local community.
"Neighborhood policing is at the heart of the work we do each day to keep our city safe. When New Yorkers know their local officers and trust their local officers, we are all safer as a city. In times like these, we have a responsibility to provide our nation with a model for respectful and compassionate neighborhood policing. This year, we showed this country that we could launch a groundbreaking neighborhood policing model and continue driving crime down – and today, we are continuing to expand this essential program to over half of our city's police commands,"

said Mayor Bill de Blasio

. "If we want to keep all New Yorkers safe, policing must be of, and for, and by the people – and neighborhood policing is bringing us closer toward this goal each day."

"The Neighborhood Coordination Program represents the direction in which American policing is headed; as I have often said, the community and its officers need to see one another,"

said Police Commissioner William J. Bratton

. "This program does that. It embodies the ideals of what the police and the community can accomplish when they work in tandem. Its expansion solidifies the profound change in policing that has been occurring in New York City since the program's inception in May, 2015. I want to thank Mayor de Blasio for providing the support and resources necessary to make the NCO program possible. I also want to thank Chief O'Neill for all of his hard work as the shepherd of the NCO program."
"This is a crime-fighting model that is improving neighborhoods, incrementally on a small scale, block by block," said Chief of Department James P. O'Neill. "We're building stronger partnerships between police and the communities we serve by identifying and managing concerns on the most local of levels, and establishing closer relationships and mutual understanding. It's all about our communities personally knowing their local cops, and trusting those cops to help them and their neighbors lead better lives. This is happening in a respectful and compassionate way, every day, all over New York – and it's making the whole city safer."
The Mayor and Police Commissioner announced the expansion during National Night Out in the 114 precinct in Astoria. National Night Out is an annual event, nationally sponsored by the National Association of Town Watches, organized by individual precincts with the help of their local community. The events provide a space for police and the public to meet and engage with one another in the community.
Under this administration, the NYPD launched NCOs in four original precincts in May 2015. Since then, the department has expanded this policing model to 32 total precincts, or 37 percent of citywide commands. Today, NYPD announced they will launch NCOs in the following 12 additional precincts in October 2016, bringing the total NCO precincts to 51 percent of all citywide commands, and 100 percent of Housing commands:
9 – East Village, Manhattan
28 – Harlem, Manhattan
41 – Woodstock/Hunts Point, Bronx
60 – Brighton Beach, Brooklyn
69 – Canarsie, Brooklyn
84 – Brooklyn Heights, Brooklyn
88 – Fort Greene/Clinton Hill, Brooklyn
103 – Jamaica, Queens
114 – Astoria, Queens
PSA 1 – Coney Island, Brooklyn
PSA 4 – Lowest East Side, Manhattan
PSA 9 – Pomonok, Queens
Neighborhood Coordination Officers are assigned to specific precincts to identify and respond to community concerns, and spend dedicated time each day establishing and building relationships with the local community. The plan includes "true sector integrity," where the same two officers are assigned to the same sector each day, and given the training and resources to work closely with the community to address local issues. In addition to advanced investigation training, NCOs are also provided mediation training to improve their conflict resolution skills. The number of NCOs per precinct varies depending on the precinct size.
Neighborhood Coordination Officers are part of One City: Safe and Fair—Everywhere, a groundbreaking plan of action launched by the Mayor and Police Commissioner in June 2015, which includes a series of strategic changes to form a new comprehensive framework for neighborhood policing. One City: Safe and Fair—Everywhere is based around the belief that the best way to keep our city safe is to engage communities as active and equal partners in the fight against crime.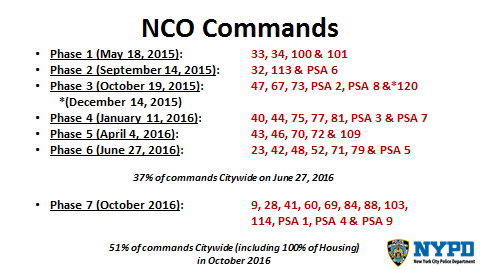 "The expansion of neighborhood policing from Brighton Beach to Brooklyn Heights is welcome news. Every resident has a shared and vested interest in public safety, and this important NYPD initiative is bringing them closer to the police officers sworn to protect them. Community-police relationships are vital to addressing everyday neighborhood challenges as well as rooting out crime in the crevices where it lurks. This is not a cosmetic change, this is a meaningful deployment of trained personnel that will help every community be a safer place to raise healthy children and families," said Brooklyn Borough President Eric Adams.
"I am thrilled that the NCO program will be expanding to over half of the City's police precincts. Since January I have gotten to know many of the NCOs at the precincts in my district. I see them regularly at NYCHA family days, weekend health fairs, and other community events, serving my constituents with compassion and respect. The NCOs are redefining police-community relations in areas where tensions have often run high, fostering newfound trust between officers and civilians. I thank the NYPD for continuing to expand this program and I thank the NCOs who are serving and will serve as partners with our communities in crime fighting, making the City safer for all New Yorkers," said Council Member Vanessa Gibson, Chair of the Committee on Public Safety.
"As a former police officer I understand the importance and efficacy of a strong neighborhood policing program. I would to like commend the New York City Police Department for expanding the Neighborhood Coordination Officers program. This initiative is vitally important to create strong relationships between police and the community in order to build trust, develop mutual respect, reduce crime and keep our neighborhoods safe," said State Senator Martin J. Golden.
"I applaud Mayor de Blasio and Commissioner Bratton for expanding this great program. At the heart of strained police and community relations is the distrust between the two. By putting our police officers on the streets and entrenched in the community we can rebuild this trust. I look forward to seeing the great results of this program," said Assembly Member Joseph R. Lentol.