The NYPD today demonstrated at the Police Executive Research Forum (PERF) conference how its men and women use specific tactics during crisis situations that contribute to safe and peaceful resolutions.
The PERF conference, which coincided with the Major Cities Chiefs Association and the FBI's National Executive Institute conferences, included leaders from law enforcement departments from across the country and Canada.
Members of the NYPD shared how specialized training, usually reserved for elite units such as the Emergency Services Unit (ESU) and Hostage Negotiation Team (HNT), is now being given to patrol officers as well as recruits in the police academy.
The training involves crisis communication and physical tactics during incidents where a person is in a crisis and the officers are seeking voluntary compliance. Gaining voluntary compliance is the goal as it ensures the incident is concluding with everyone being safe.
This includes incidents such as despondent and suicidal people, people with mental illnesses, and individuals that are either barricaded or armed.
The demonstration included an overview of the crisis communication skills that are currently being taught during Crisis Intervention Team training for patrol officers which includes:
Active listening
De-escalating the situation
Demonstrating empathy and building rapport
Influencing techniques and
Emotional control
The ESU officers then demonstrated how the use of these skills is complemented by effective physical tactics where they are working cohesively as a group.
This team approach includes:
One officer speaking
Giving clear and specific commands
Using a respectful voice tone
Nonverbal communication and
Maintaining situational awareness
Situational awareness refers to the officers constantly being aware that the dynamics of the interaction is continually changing and they all must remain alert to ensure the safety of everyone involved- the person, bystanders, and police officers.
The demonstration concluded with the NYPD members interacting with the law enforcement audience where communication and physical tactics were further discussed. Audience members shared how their departments are doing similar training while also looking to make it more innovative to ensure their patrol officers have these important skills.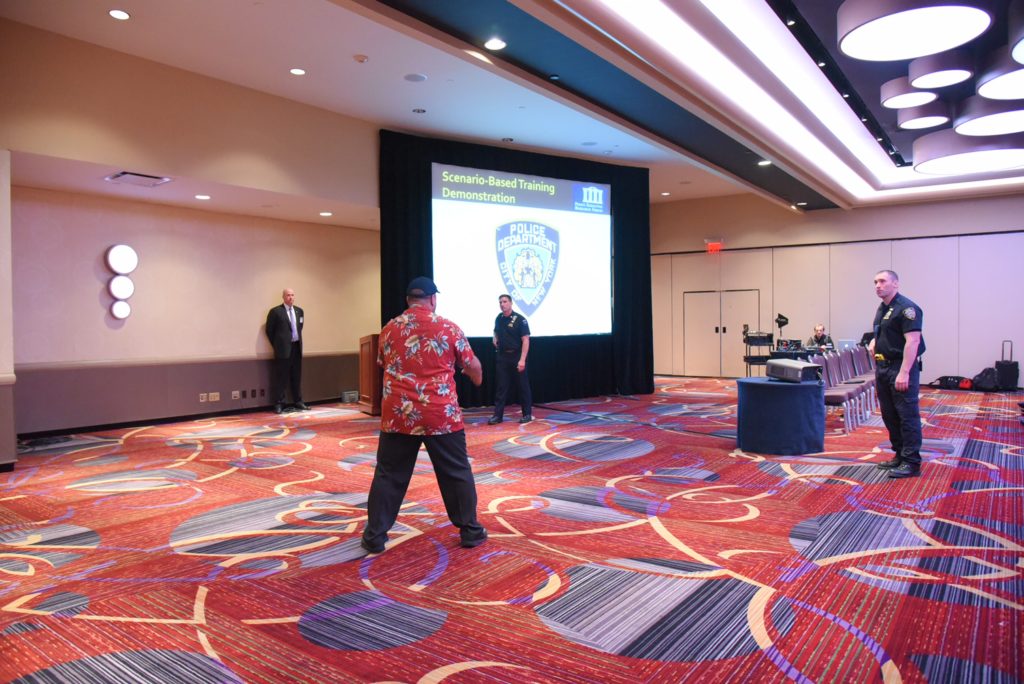 If you are having thoughts of suicide, help is available. You have options and you are not alone. You can call the Life Line at 1-800-273-8255 or 911 for an emergency. You can also text "Talk" to the Crisis Text Line at 741-741. 
If you know someone who might be in a crisis, you do not have to be an expert to help them. Get tips here: www.NYPDnews.com/TalkToMe