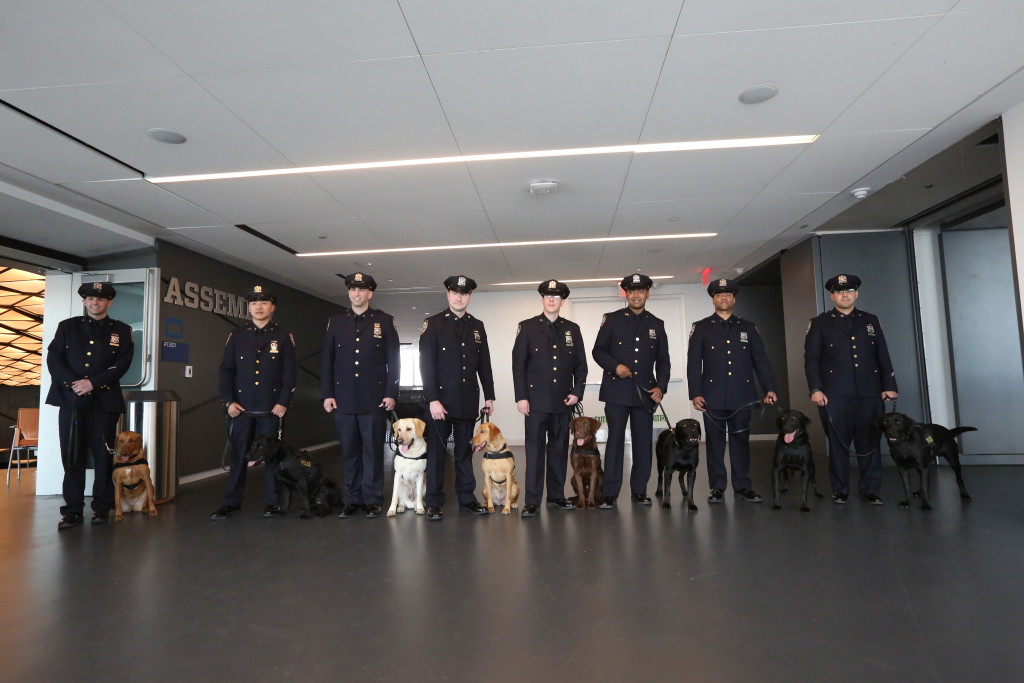 Eight new NYPD Counterterrorism canines and their partner officers graduated training in a ceremony held at the Police Academy in College Point, Queens. The highly trained officers and their four-legged partners will protect New York City by helping to detect explosive devices using the canines' sense of smell. The vapor wake dogs, as they are referred to, will patrol throughout the five boroughs at high profile locations, as well as other sensitive areas.
"The new NYPD Counterterrorism canines are part of the evolution of how the NYPD is protecting New York City,"

said Police Commissioner Bratton

.
As a continuation of the NYPD's promise to never forget our fallen heroes, each of the eight canines are named for an officer who was killed in the line of duty. The officers' families joined members of the NYPD leadership team and other members of the Department to honor their loved ones at Wednesday's ceremony.
Police Officer Hans Ford and Canine Ford
Honoring Detective Horace Lee Ford
Police Officer John F. Kennedy and Canine Robbie
Honoring Police Officer Robert Bilodeau
Police Officer Michael Masotto and Canine Abe
Honoring Detective Abraham Walton
Police Officer Thiago Bini and Canine Kevin
Honoring Police Officer Kevin Gillespie
Detective Hoksang Lau and Canine Vin
Honoring Police Officer Vincent Danz
Police Officer Mathew Gullo and Canine Maddy
Honoring Police Officer Madeline Carlo
Police Officer John Etienne and Canine Randy
Honoring Detective Randolph Holder
Police Officer Scott Marucheau and Canine Paulie
Honoring Sergeant Paul Ferrara
Meet Abe! Abe is one of 8 @NYPDCT K9's graduating training now at the Police Academy. They'll be protecting NYC pic.twitter.com/44PLZfEYjl

— NYPD NEWS (@NYPDnews) March 23, 2016