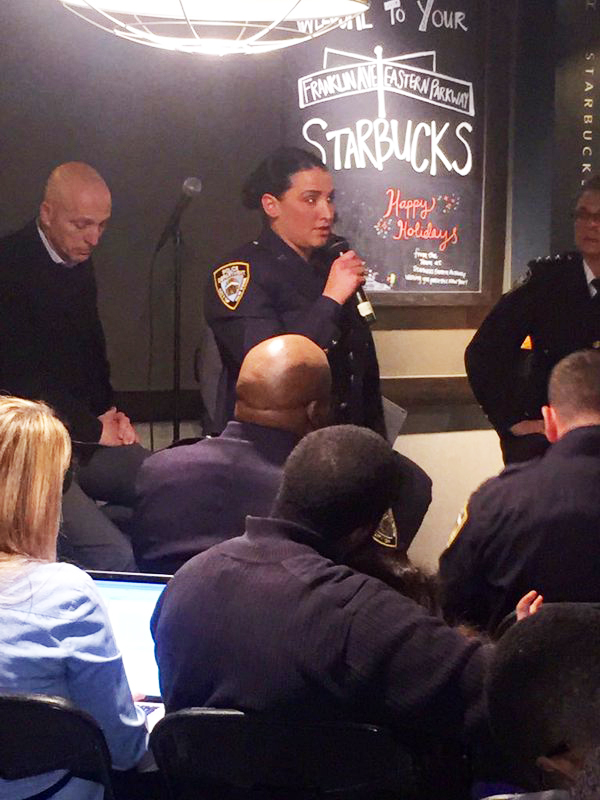 Brooklyn residents met with NYPD officers earlier this month at Starbucks on Franklin Avenue for a "Coffee With Cops" event to discuss ways to improve community and police relations through open dialogue. This collaborative effort between the Community Affairs Bureau, led by Chief Joanne Jaffe and Starbucks was established in great part because of controversial cases involving police and youth in New York City, and across the nation. The discussion, moderated by Medgar Evers College Professor Richard E. Green, and the Founder of the Crown Heights Youth Collective, Inc., was informal, lively and honest. The key speakers included patrol officers from the 71st and 77th Precincts. Also in attendance was Assistant Chief Maddrey, Commanding Officer of Patrol Borough Brooklyn North, Inspector George Fitzgibbon, Commanding Officer of the 71st Precinct and Deputy Inspector Eddie Lott, Commanding Officer of the 77th Precinct.
During the discussion, one of the questions posed to the audience was: "What are some of your impressions that you have of the police officers that patrol your community?" Some of the responses included:
"I have the impression that officers don't really care about us, people of color."
"Cops don't smile. They frown too much. They don't look happy."
"There's a barrier between the community and the police force."
Later police officers expressed their sentiments about what it's like being a cop. Some of the comments included:
"I'm a part of the community inside and out, so I see what a lot of youth are facing. Police officers have a job to do. We have a lot of people to protect to make sure everyone goes about their business as safe as possible so no harm comes to them."
"We need you as much you need us. Our job doesn't end at the end of a shift. We go home and think about how we could have done things better."
"Part of the problem is that sometimes when you see us in a bad mood, five minutes before we may have had to chase someone, or someone beat up one of our co-workers or we saw a really bad car accident. We're not robots, we're human beings. Just because we wear these uniforms doesn't mean we don't feel the same things you would feel in that situation."
At the end of the event, it was clear that not every issue would be resolved in one night, but it was another step toward dispelling misperceptions that the community and police officers have about each other.